We are delighted to announce Tally Market's Stars of the Workplace 2023 List. A huge congratulations to every company that made the list - there was a lot of great competition. 



The top 100 list: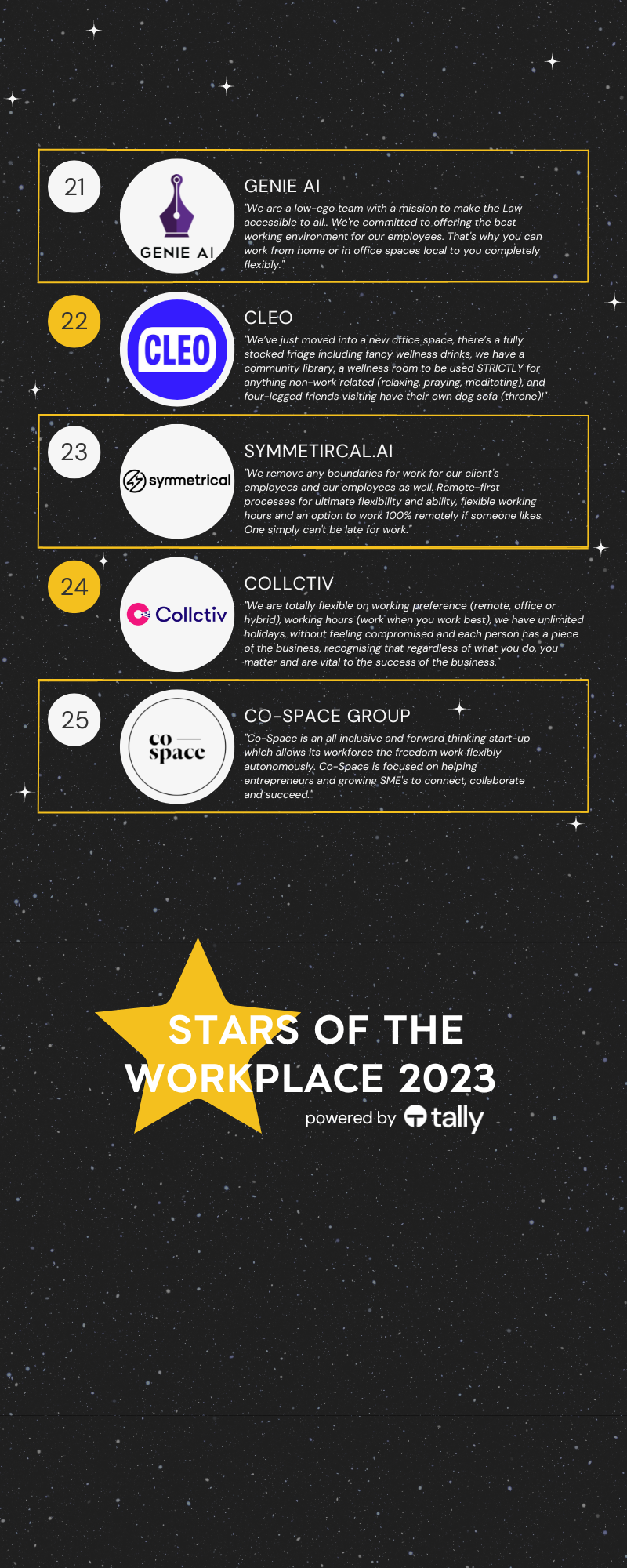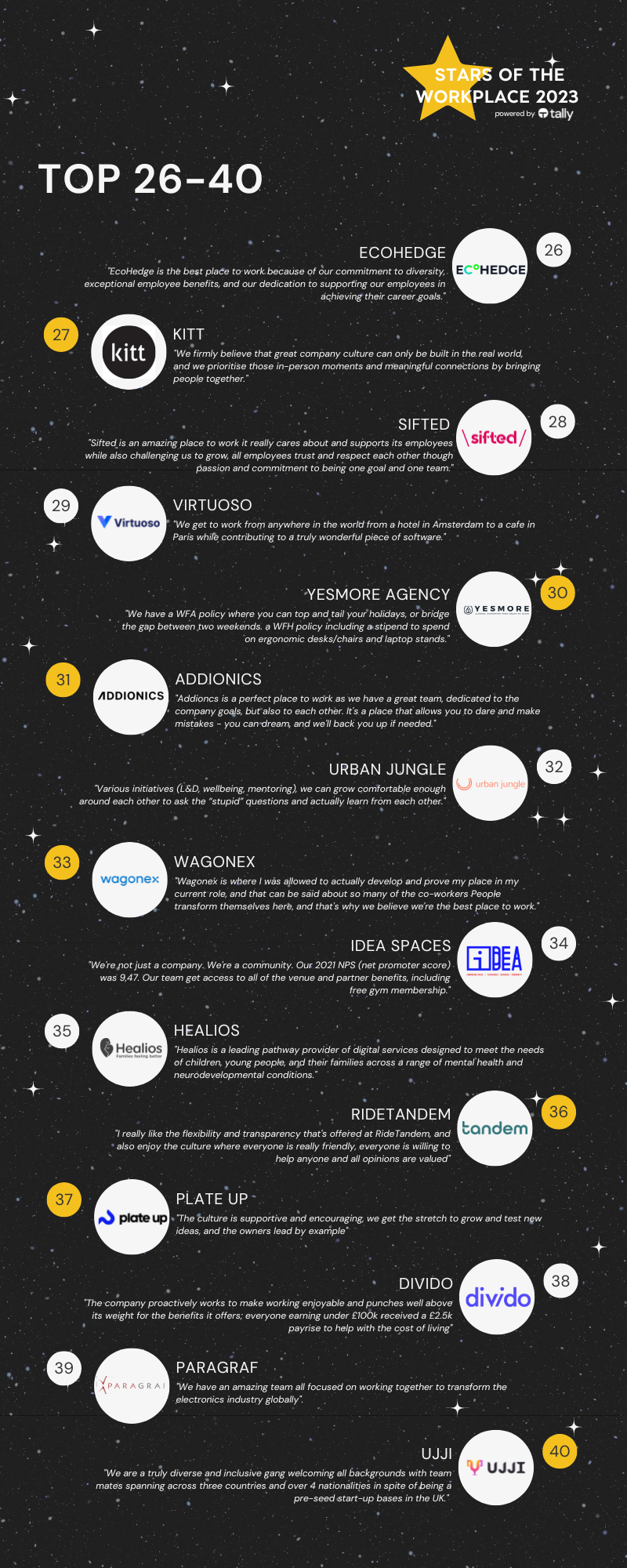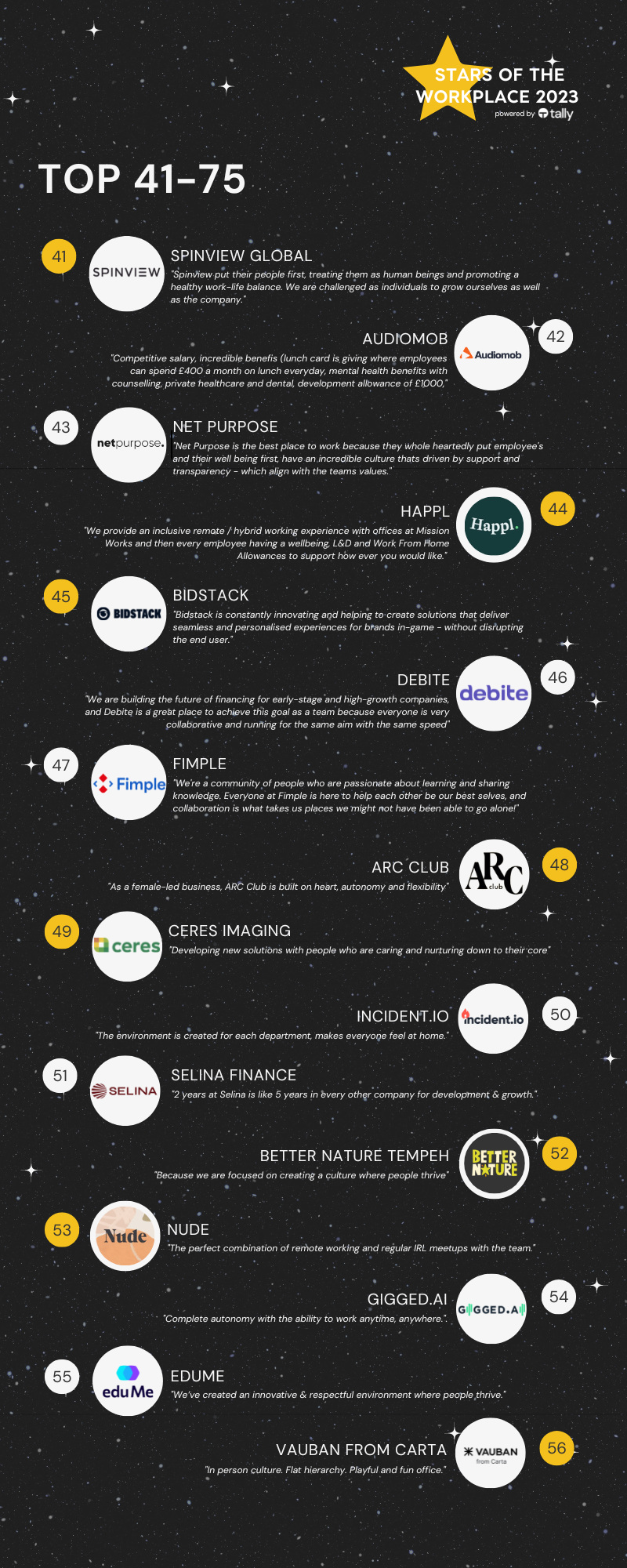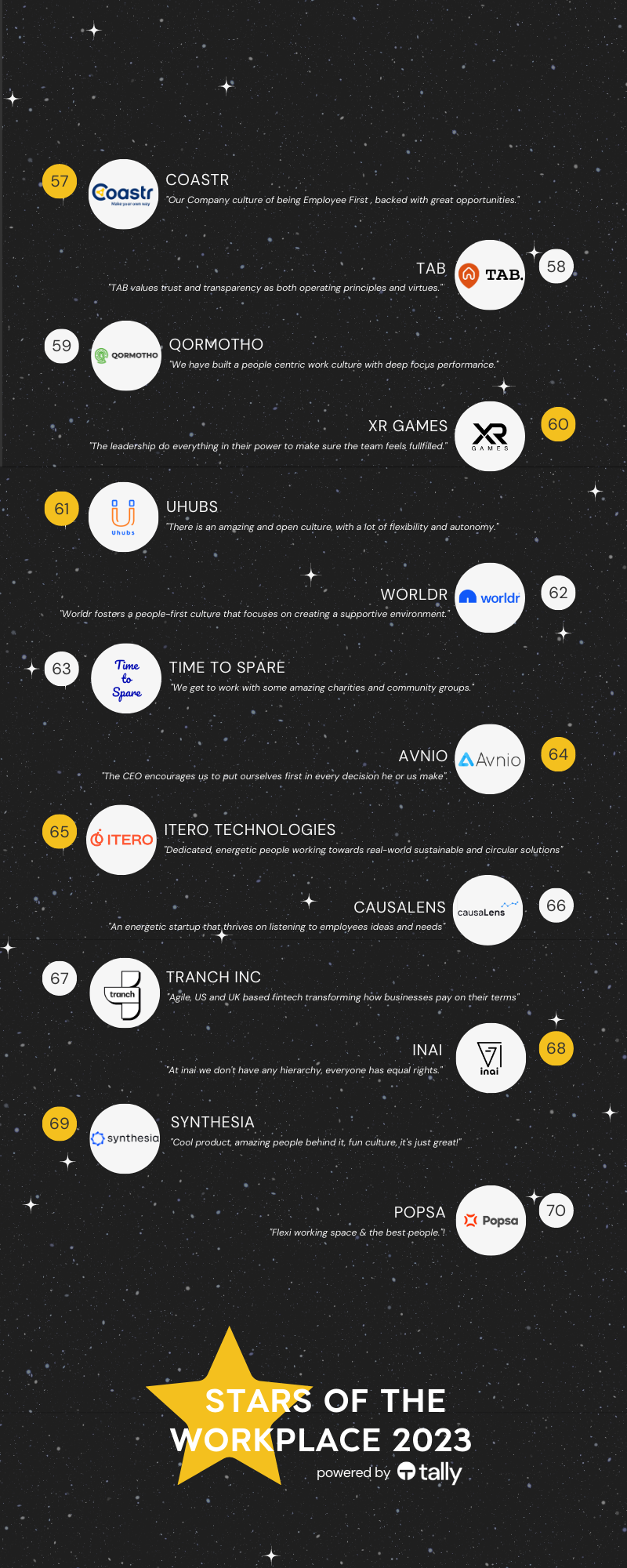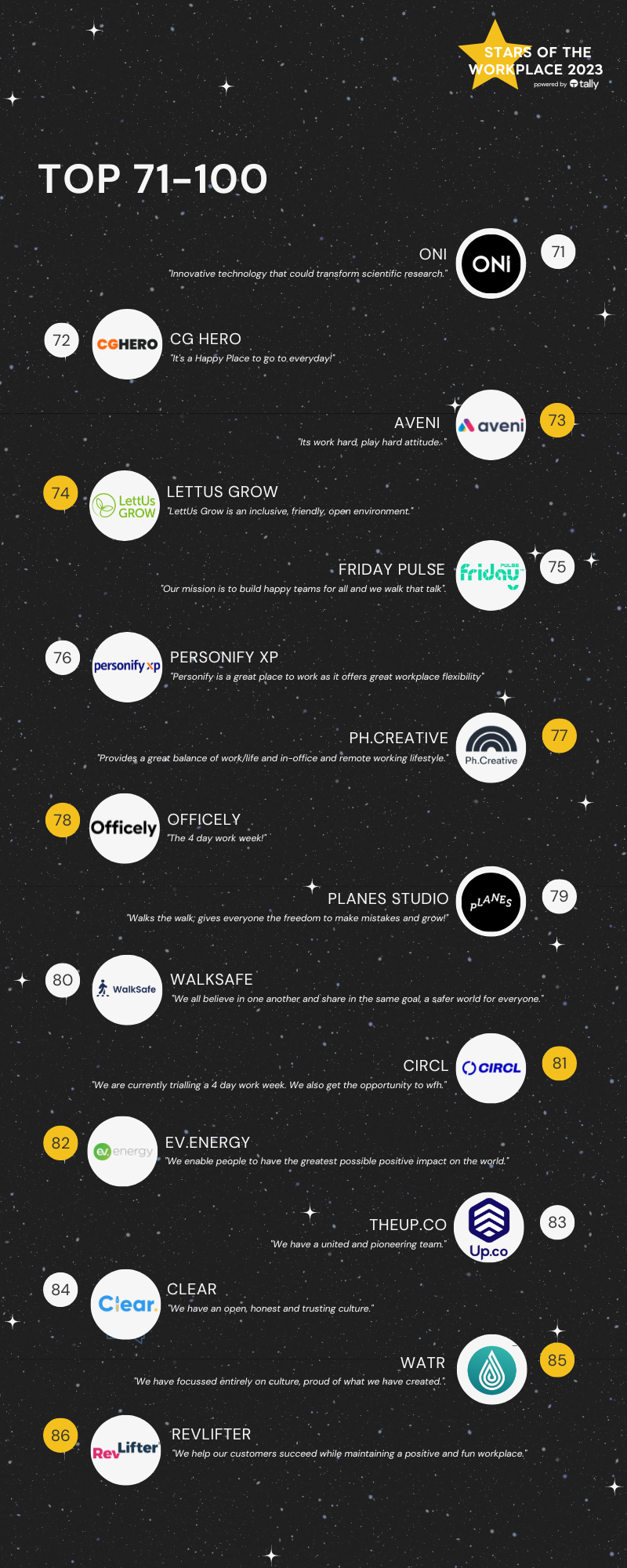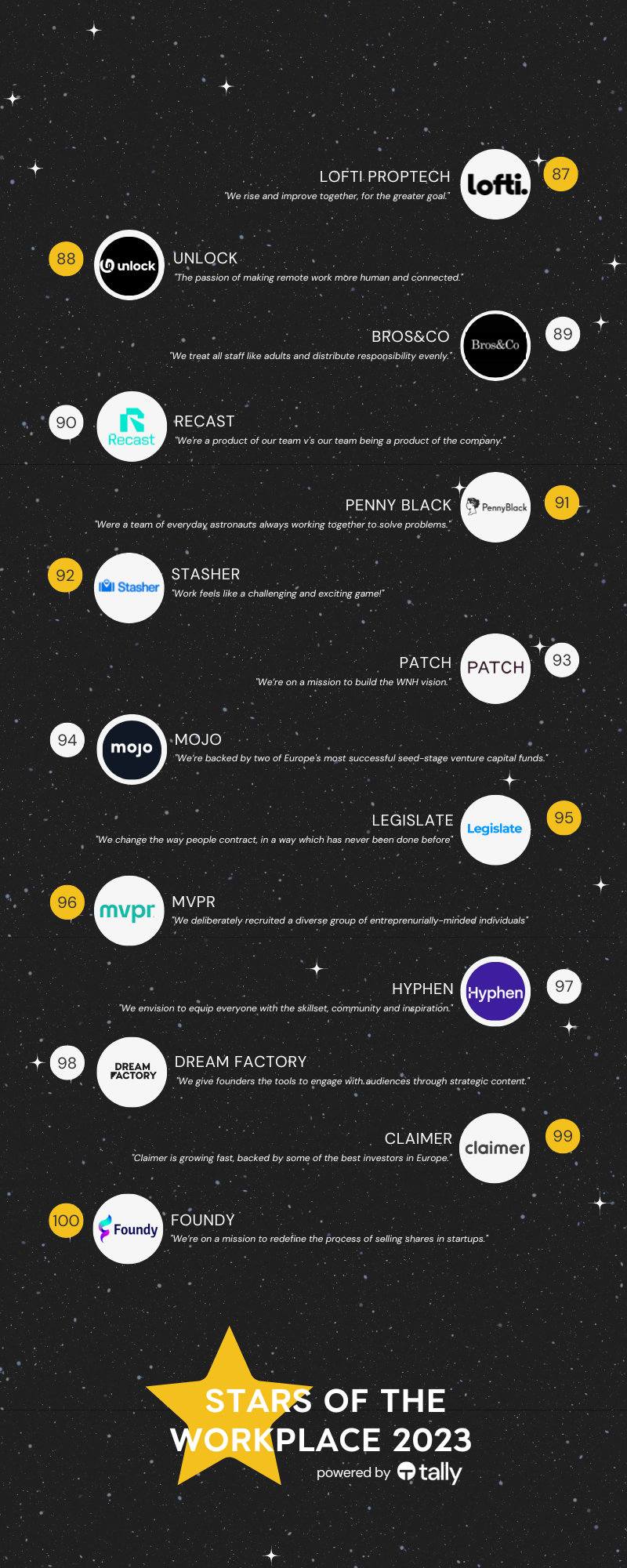 The results for the three Shining Stars Awards were decided upon by our lovely judges. All of whom are shining stars themselves in the startup world. 
The Shining Stars Awards were won by:
1. Most Flexible - Lavanda
What their employers had to say about working for Lavanda
- "
Staff are able to come in whenever they want, whichever days they want, at whatever time works best for them, there are no compulsory days. We also allow our staff to work from any location in the world. 'Embody flexibility' is one of our core values."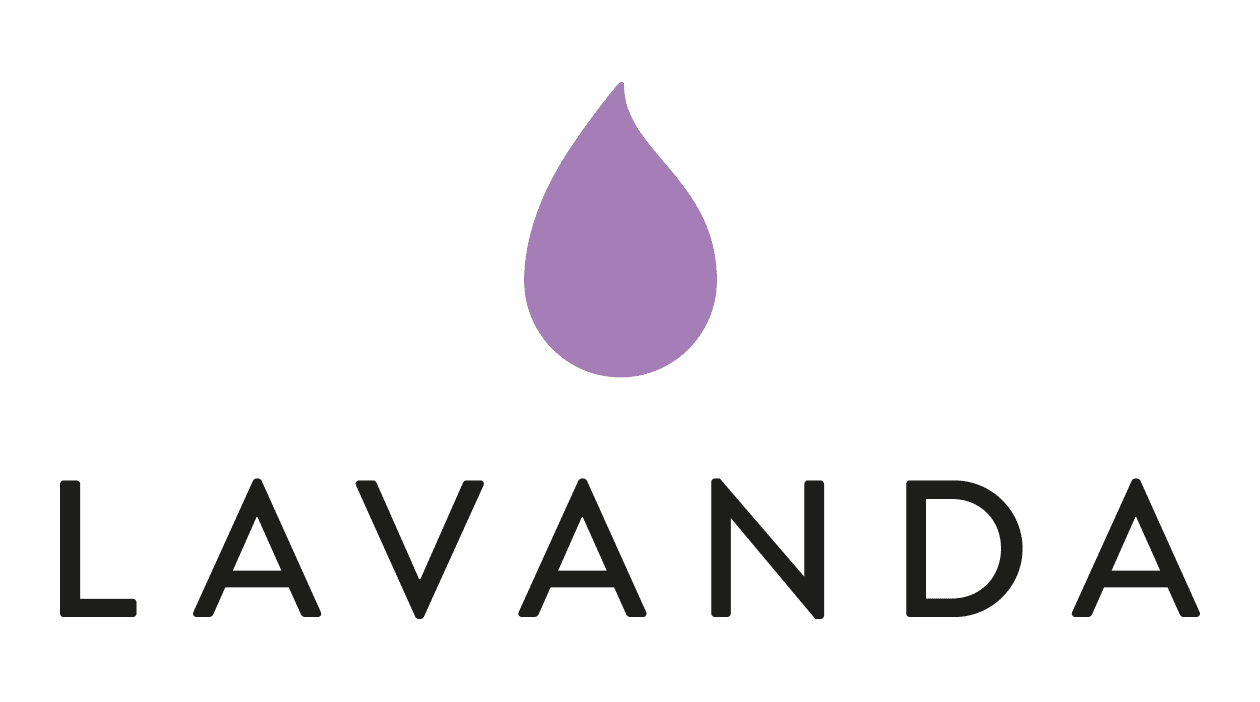 2. Best for Dog Owners - HR Revolution
What their employers had to say about working for HR Revolution
-
"We have Baxter and Snoopy who are our furry Wellbeing and Security Managers.. who always love to see anyone (especially with treats!)"


3. Most Fabulous HQ - Senit App
What their employers had to say about working for Senit App - 
"
At Senit we are making a difference in the world. Innovative and visionary leaders, global team,
human-focused
business practices, quarterly get-togethers,
pet-friendly
, breakfast with the founders, team parties, lunch and learn events."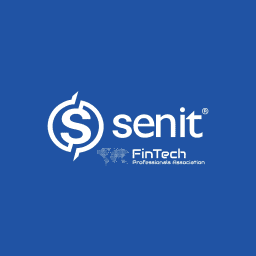 The process for determining which companies make it onto this prestigious list is a rigorous and demanding one. 
We look at the workplaces, perks, and policies of each company. Moreover, employee feedback, goals, and culture. The chosen companies have it all. To be included on our list, businesses must provide their team with excellent workplaces - whether they be remote, hybrid, or office based. 

We are pleased to see that this year's list features companies from a range of industries and geographies. Each company is doing its part to find ways to support its team through what can be a challenging landscape. 


The names on the Top 100 list are committed to creating amazing workplace experiences. 
Congratulations to all our winners! And we at Tally Workspace want to support and showcase this. 
Congratulations to all our winners!
At
Tally Workspace
, we specialise in finding companies the perfect workspaces to fit their needs, whether that is a
full-time office
for the team or access to ad hoc coworking and meeting rooms. 
Just pop us a message on the live chat and we will help you find the flexible workspace of your dreams, or you can always email us at
[email protected]
.